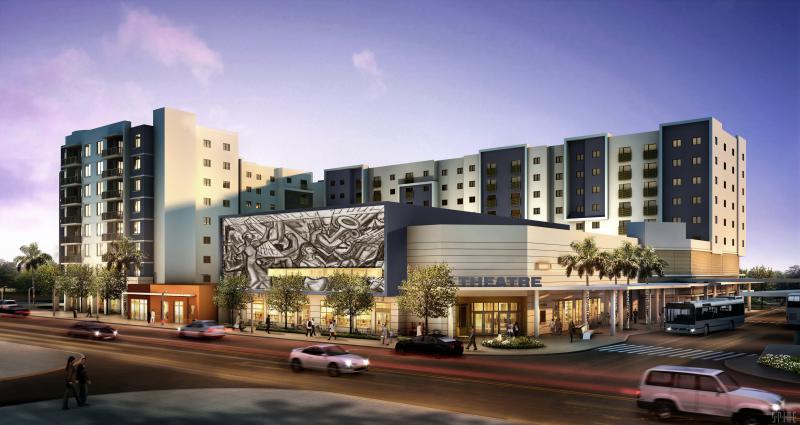 7th Avenue Transit Village Theater/Cultural Center (previously Carver Theatre)
GOB Allocation: $5 million
Completed: November 2016
Project Summary: GOB funds were re-programmed for the development of a theater/cultural center as part of a mixed-use development on the NW 7th Avenue Transit Village project.
Status: Because the Carver Theater is privately owned and acquisition of the property and the required capital work to reopen the theater were estimated to be in excess of the GOB funding allocation, the funding earmarked for the Carver Theater project was reallocated to the Transit Village, a transit hub at the intersection of NW 7th Avenue and 62nd Street, a public-private partnership development across the street from the Carver Theater site. A significant modification of the Carver Theater project was approved by the Board of County Commissioners (BCC) on October 4, 2011 via resolution R-755-11.
The Transit Village project was envisioned to create seamless access for commuters to and from the Liberty City area and connectivity between Miami-Dade and Broward Counties while serving several municipalities. The development includes affordable housing, retail/commercial space, and a multi-level parking garage component. A multi-purpose theater with an arts center component was subsequently incorporated into the village plan.
A ribbon cutting ceremony was held on April 29, 2016 to inaugurate the facility as the Audrey M. Edmonson Transit Village. On July 22, 2016, the BCC approved an Operating and Management Agreement with a local non-profit organization, Fantasy Theatre Factory, for the management of the theater and joint programming with resident company The M Ensemble. Following the theater's grand opening ceremony and naming as the Sandrell Rivers Theater on November 19, 2016, The M Ensemble presented their first production at the theater, Kings of Harlem, on January 5, 2017.
The Theater is quickly establishing itself as an excellent resource in the community for not only arts and culture but also for civic engagement too.  The M Ensemble, has mounted three successful, critically acclaimed productions thus far; Fantasy Theatre Factory has held multiple field trip performances of its productions for children from area schools.