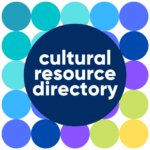 Cultural Resource Directory: Building Community Through Connectivity
The Miami-Dade County Department of Cultural Affairs is proud to announce the launch of the Miami-Dade County Cultural Resource Directory online as a way to connect arts organizations - in tandem with Miami Arts, Culture & Heritage Months (December 2022 and January 2023.) Now, you will be able to find the contact information and websites for potential cultural partners as well as important resources, such as local arts funders, art-centric businesses and service organizations to support your artistic work. Our residents and visitors will be able to easily find outstanding cultural experiences, including museums, dance studios and arts classes for kids, in neighborshoods all across Miami-Dade County. 
How can I participate in the Cultural Resource Directory?
It is free and easy to submit your organization's information to be included in the online Cultural Resource Directory. To be listed, complete this registration form. All entries are subject to editing and approval.

Long-timers in Miami's art world may remember previous, printed editions of the directory. We are more than ready for an updated directory and this resource will also serve as a "cultural census," particularly with all the new Miami-Dade-based artist collectives and arts groups that have been established in recent years.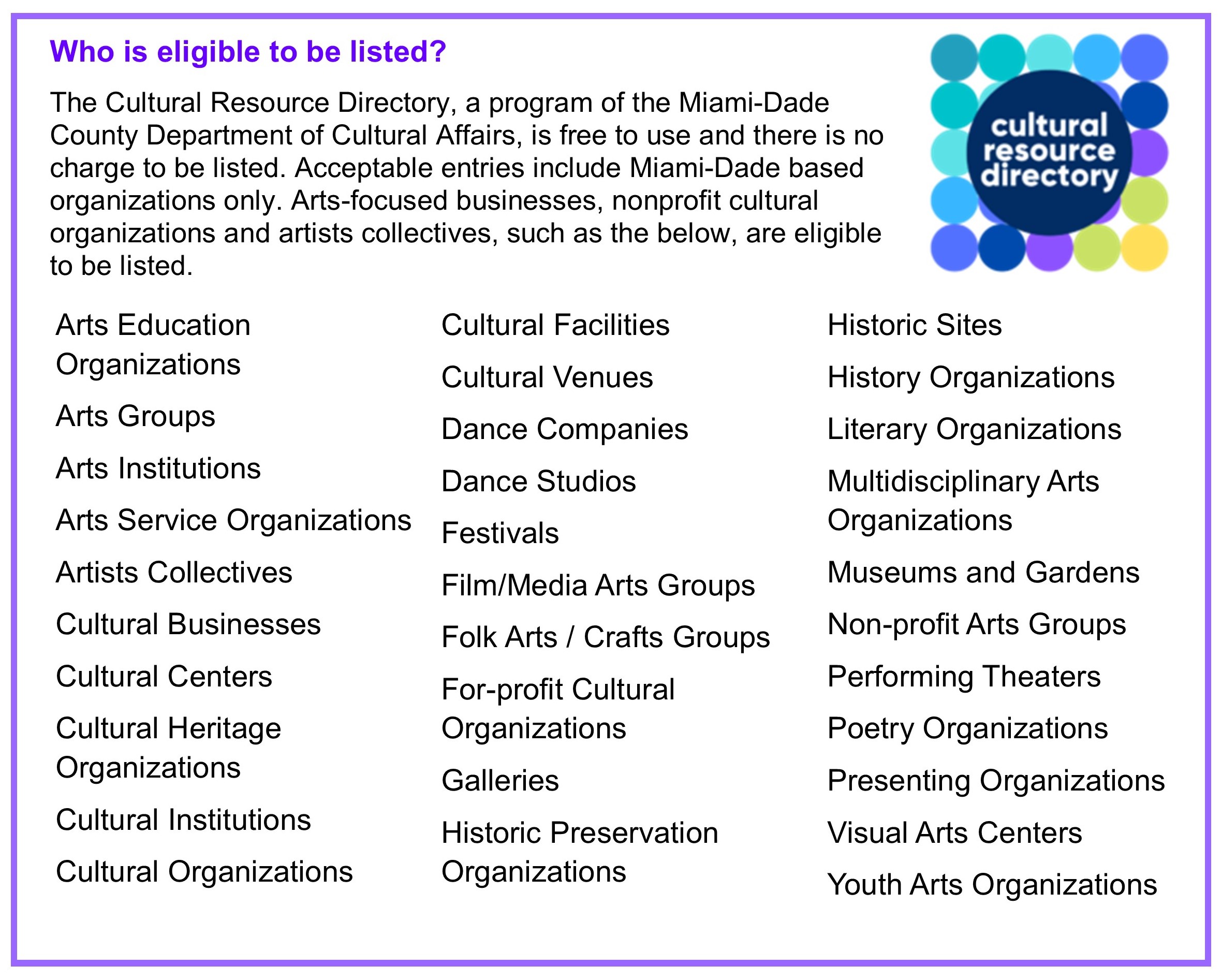 This Cultural Resource Directory, a program of the Miami-Dade County Department of Cultural Affairs, created in partnership with the Arts and Business Council of Miami and the Greater Miami Convention and Visitors Bureau, is made possible with the support of the Miami-Dade County Department of Cultural Affairs and the Cultural Affairs Council, the Miami-Dade County Mayor and Board of County Commissioners.
Need help? Download step-by-step instructions here.
Optimal browsers: Google Chrome, Microsoft Edge and Mozilla Firefox. (Use of Safari is not recommended at this time.)
For assistance, culture@miamidade.gov
Para asistencia en español, culture@miamidade.gov
Pou plis enformasyon, culture@miamidade.gov
Questions will be answered during business hours (Monday – Friday, 9:00 AM – 5:00 PM).
All entries will be reviewed and are subject to editing. Please allow 3-4 weeks for entries to be approved. The searchable online Cultural Resource Directory is expected to be published in Spring 2023.
See Director's Message from Michael Spring, Director, Miami-Dade County Department of Cultural Affairs: Cultural Resource Directory Launch Announcement Message. 
It is the policy of Miami-Dade County to comply with all of the requirements of the Americans with Disabilities Act. To request materials in accessible format, sign language interpreters, and/or any accommodation to participate in any County-sponsored program or meeting, please contact Francine Andersen 305-375-4634 culture@miamidade.gov five days in advance to initiate your request. TTY users may also call 711 (Florida Relay Service.)