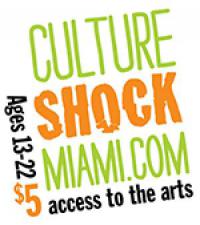 Culture Shock Miami provides $5 tickets for high school and college students ages 13-22 to attend cultural activities presented by the community's top performing and visual arts organizations, representing the broadest diversity of Miami's artistic offerings. Since its inaugural season in 2006-07, Culture Shock Miami has served the student community with diverse mix of cultural offerings.  
The program is easy, affordable and convenient. Primarily a web-based program, Culture Shock Miami students connect wherever they are: on their mobile phones, tablets and personal computers! Students simply logon to www.cultureshockmiami.com to purchase tickets. And there are no processing fees! Students can also purchase a ticket for someone who is older than 22 or younger than 13. One ticket must be used by the student and the "companion" ticket can be used by someone of any age.
Tickets sold through Culture Shock Miami are donated by our local arts partner organizations. To participate in the program and donate tickets Use our online submission form.